Barron River Canyon Algonquin Provincial Park

The Barron River Canyon is a very popular trip and has a lot to offer. Besides the spectacular stone cliffs 100 meters high, this route has good fishing, several water falls and a natural water garden with a water slide.  The trip through the canyon can be done in as little as four days and three nights. The pictures on this page were taken from two separate trips and put together to show a trip from Achray to Squirrel Rapids. Every trip begins with advance reservations but you will need to stop at the Sand Lake Gate to register and pay for your camping permits. You can also purchase your fishing license here.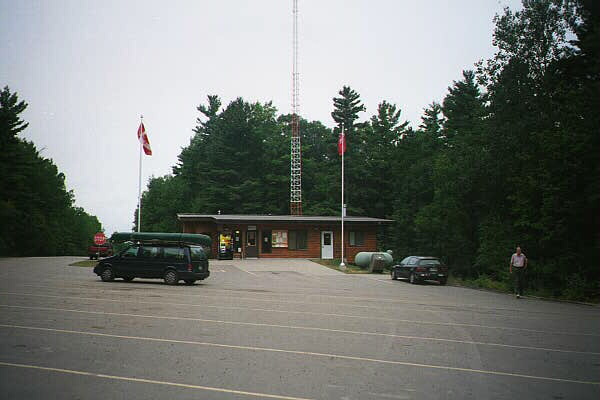 On the road to Achray there is a hiking trail that takes you to the top of the canyon where you can look down on the water you will be paddling in just a few days.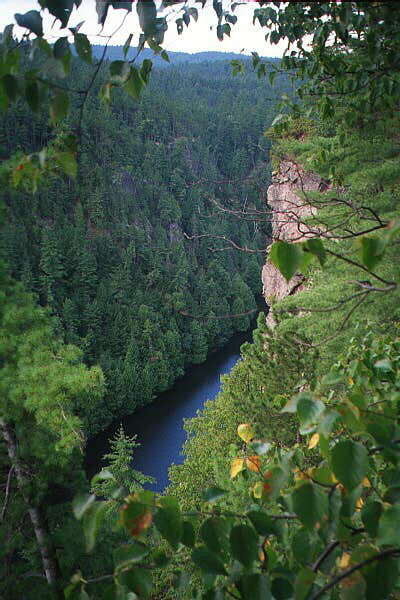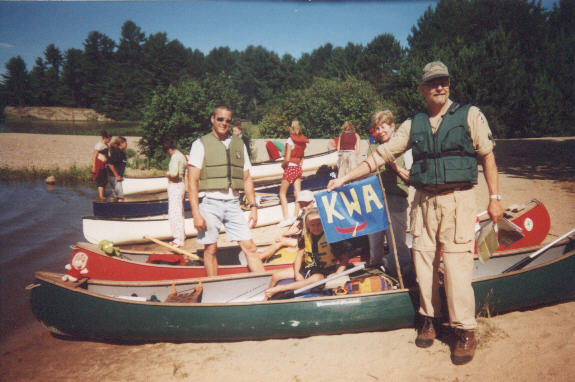 This is the lauch site at Achray On Grand Lake. Achray has a campground and nice sand beaches. It would be a good place to camp the first night if arriving late in the day.

We paddled straight across Grand Lake to Carcajou Bay and this pink granite cliff.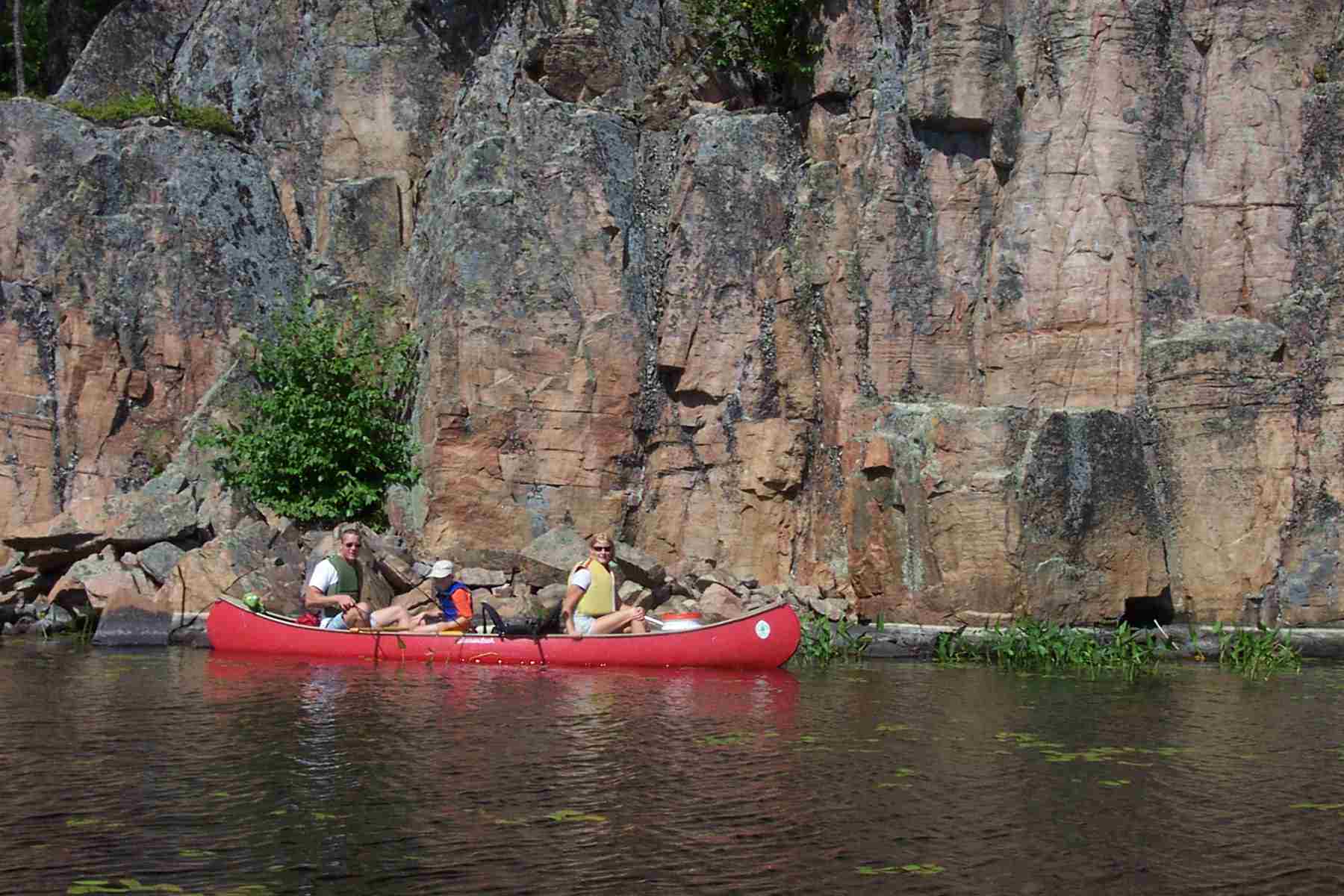 At the end of the bay is one of the area water falls. The water level was pretty low during this visit in August, 2002. The area above the falls is quite enchanting with a series of small falls.

After seeing the falls we paddled back to Grand Lake and the first portage of 30 meters taking us into Stratton Lake. Just above the portage to Saint Andrews Lake is this sand beach campsite. It looks like Kermit has his eye on a bug.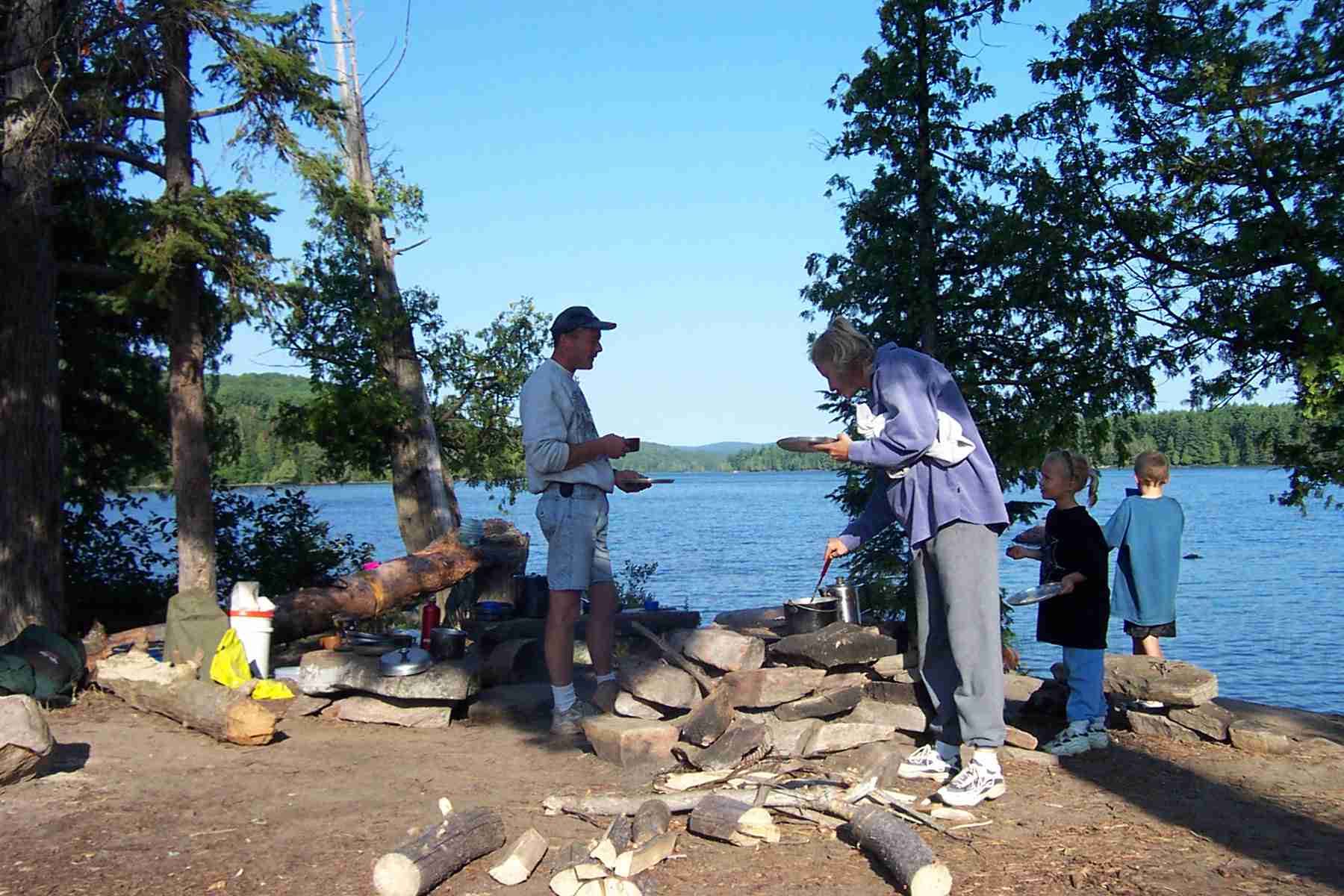 What a beautiful morning looking up Stratton Lake as we eat eggs with sausage gravy and bisquits. (See Kermit's food page).

All the way to the North end of Stratton lake is God's natural water garden. We spent two days here swimming and sliding down the water slide.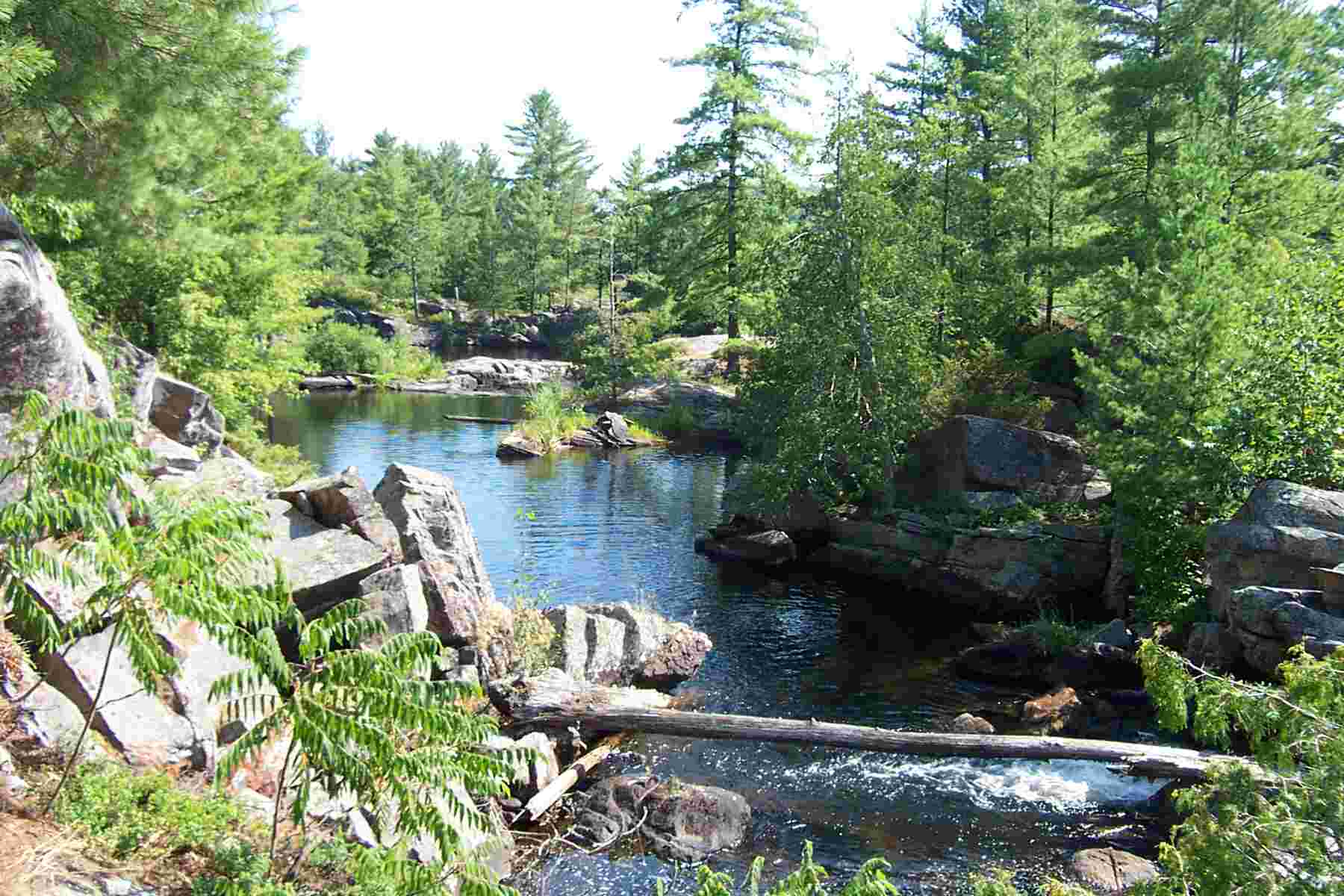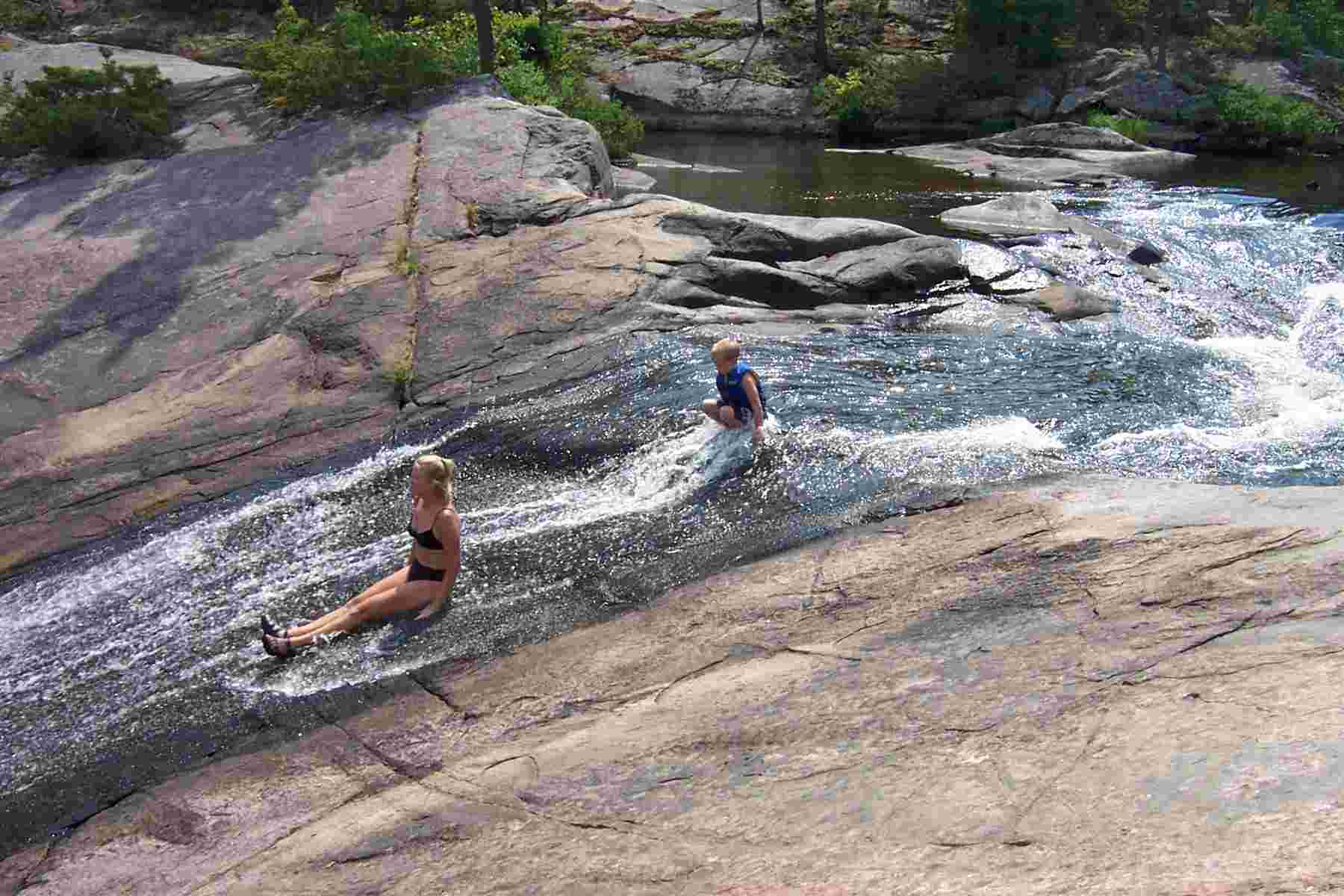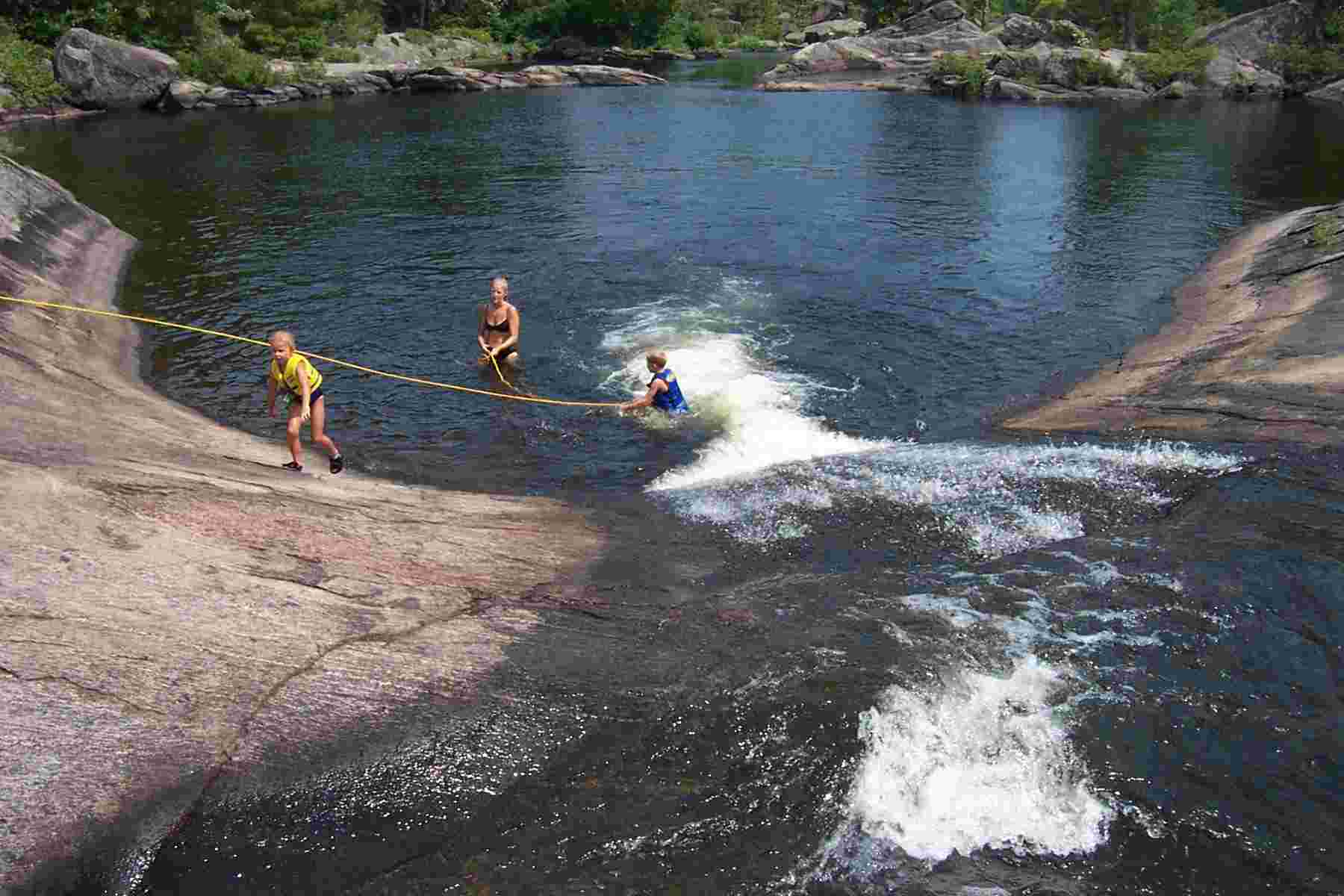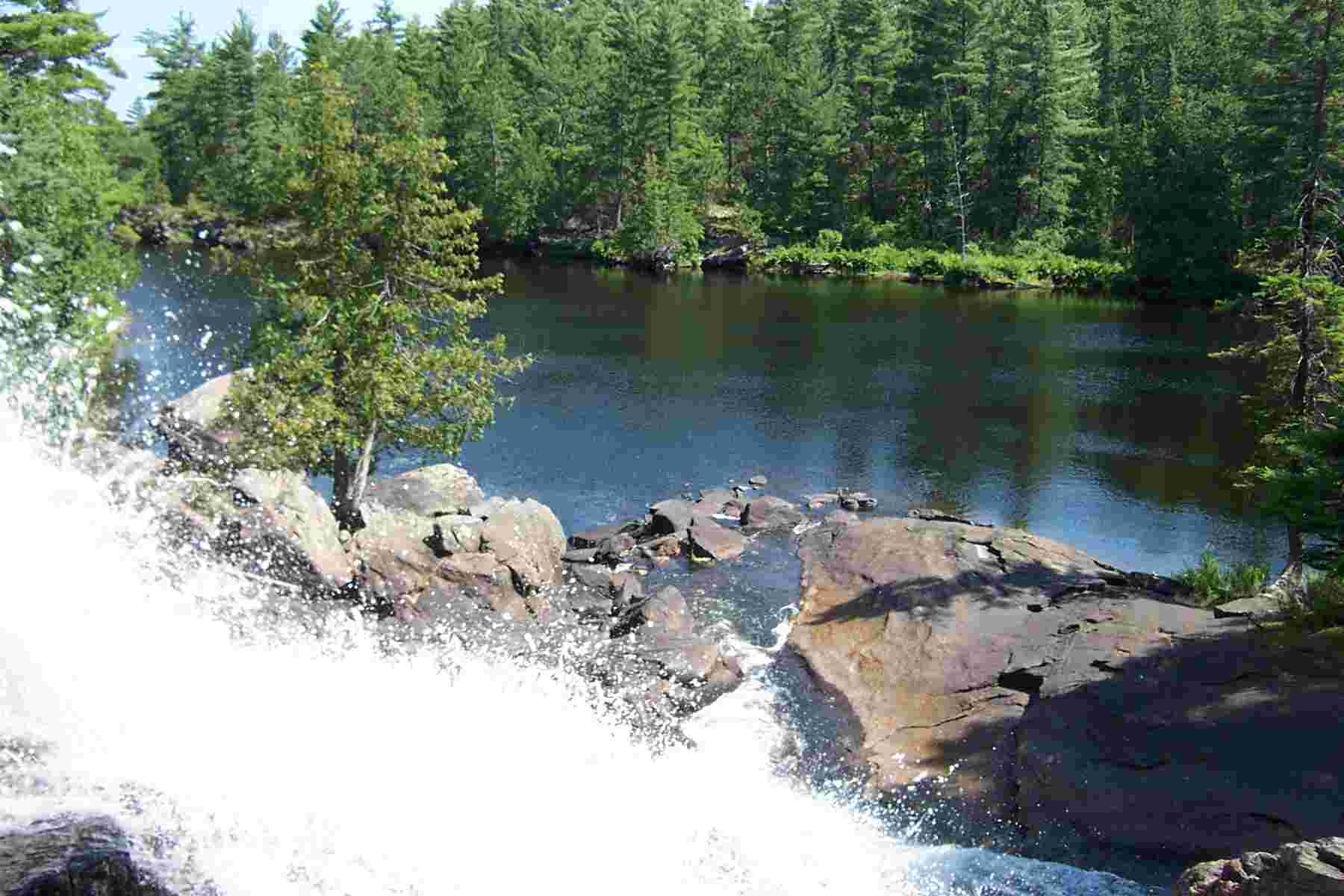 This is the view looking down from the middle of High Falls.

After the second day of swimming we spent the night at this campsite on Saint Andrews Lake. The first big portage is from St Andrews to High Falls Lake..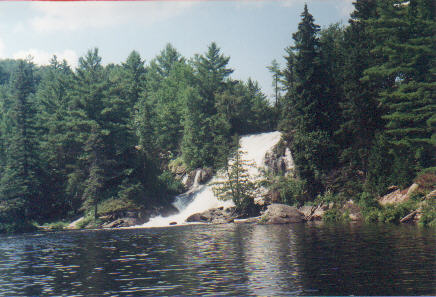 A trail from the High Falls portage leads back to the lower side of high falls.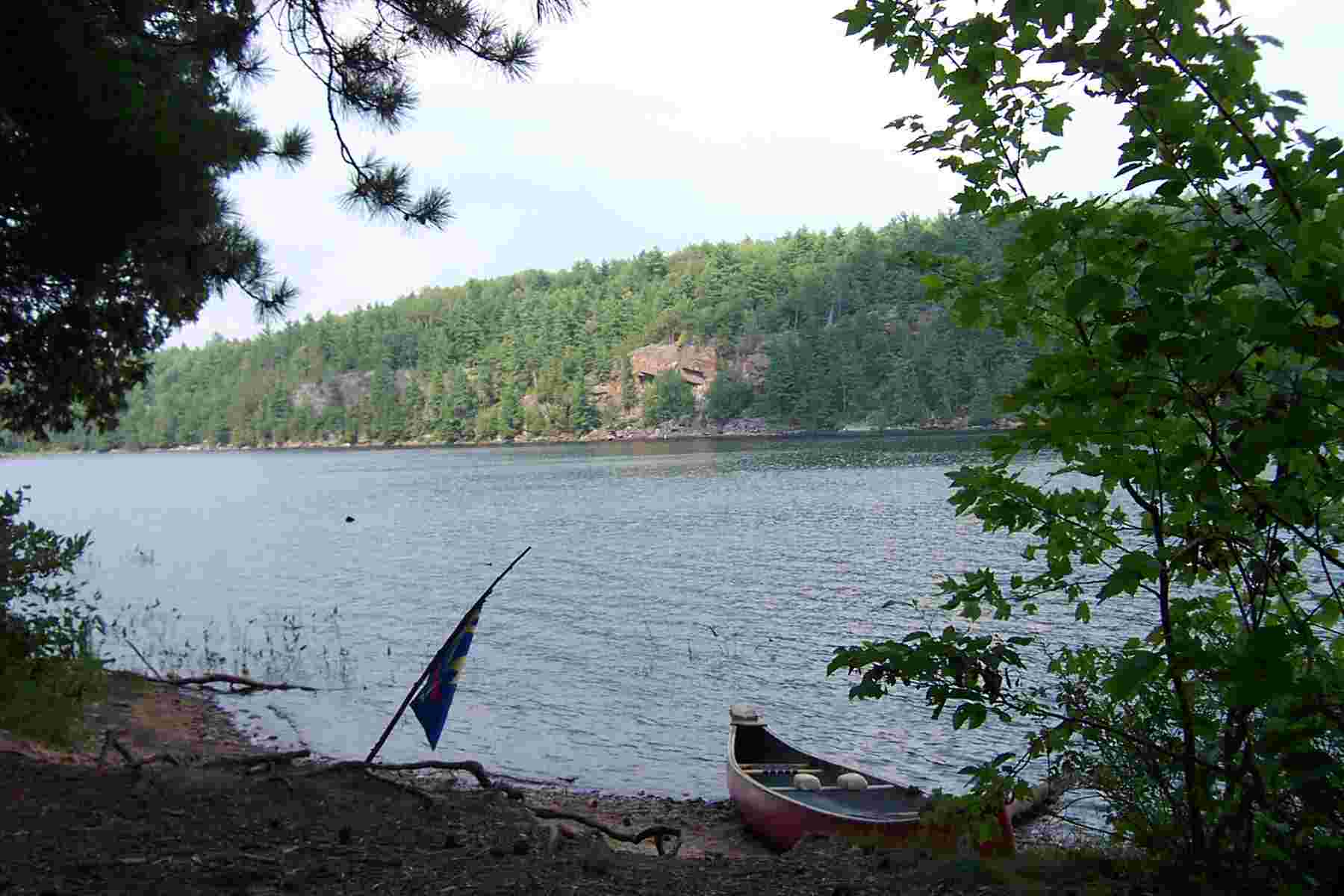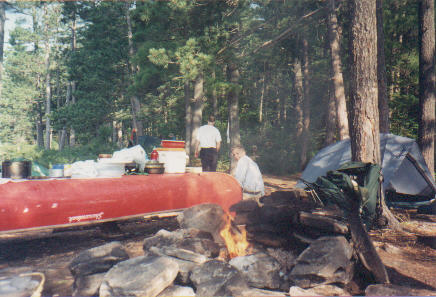 This deep pool below an eight foot rock ledge is great for diving and jumping.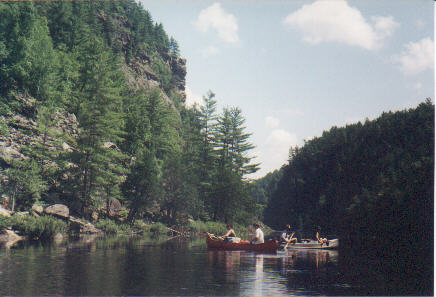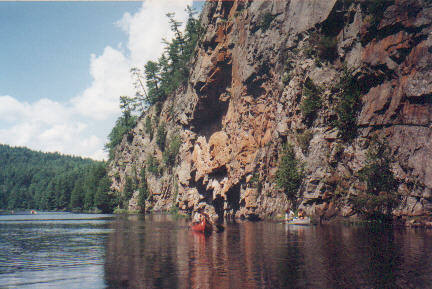 The wet stone is very slippery. We used a throw rope to climb out of the water.

From High Falls Lake is a 300 meter portage. After a very brief paddle another 640 meter portage leads to Opalescent Lake. There is a very nice campsite where we stayed at the top of the 730 meter portgage from Opalescent to Brigham Lake.

Two more back-to-back portages puts us in the Barron River Canyon where we can look up to where we stood two days earlier.

Our last camp was on the Barron River Near Ignace Lake. This put us close to the last 430 meter portage and our other car at the top of Squirrel Rapids. A quick cold breakfast allowed us to reach the car mid morning to start the long drive back home.

Click on the Home button or close this window to return to Kermit's home page.

I hope you enjoyed this virtual tour of the Barron River Canyon. Your comments or questions are welcome and appreciated.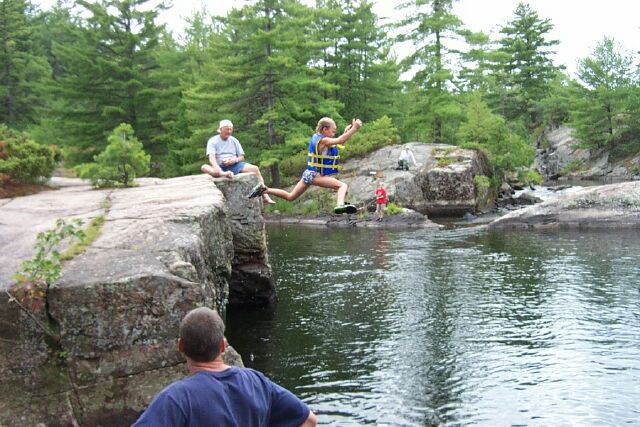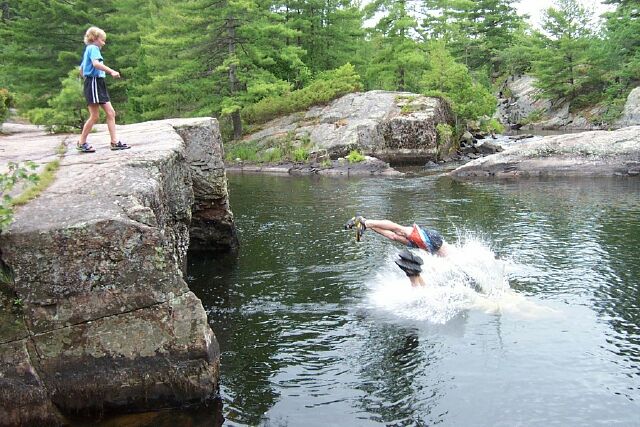 Click HERE for a link with pictures and trip details in the Barron River Canyon area. Warning, do not plan to do this trip in the times suggested on the link. Four days and three nights will make for a much more enjoyable trip.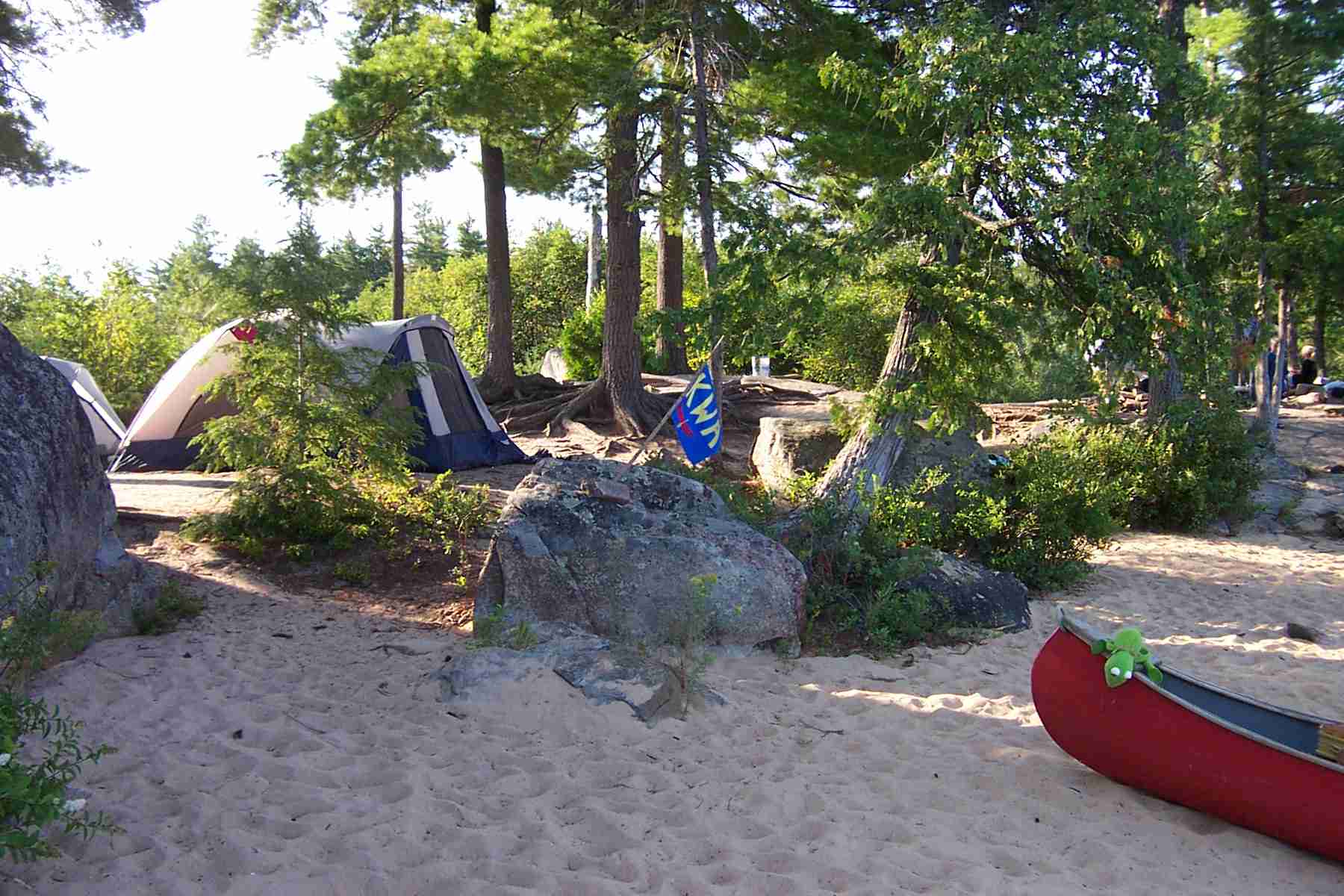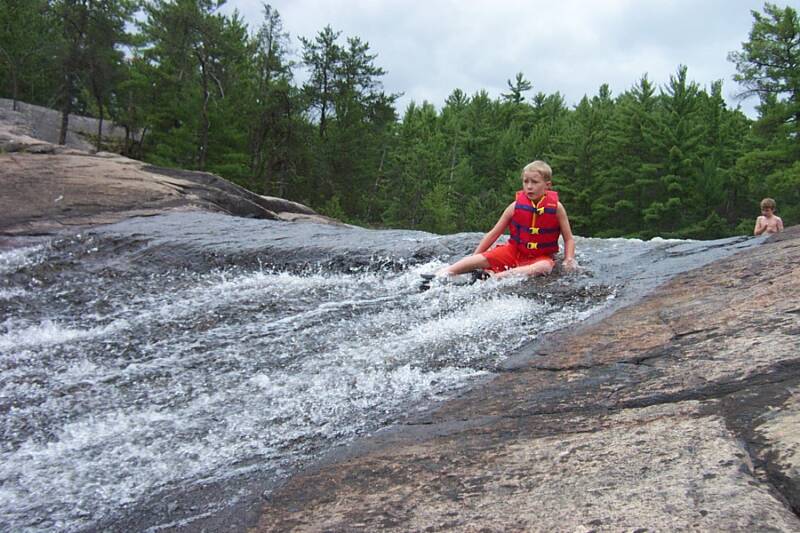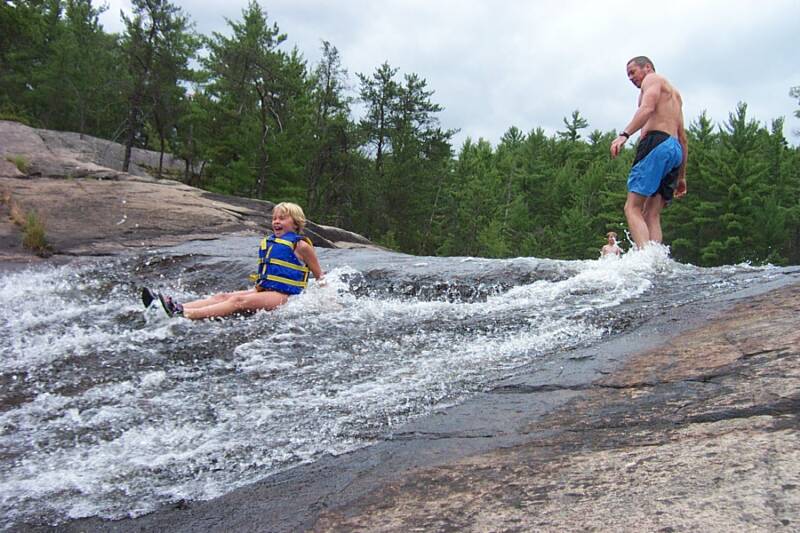 Two different expressions of emotion sliding down the rock face.

Click HERE for a link with more Barron River Canyon pictures by Mathman1.
For More of the Barron River Canyon