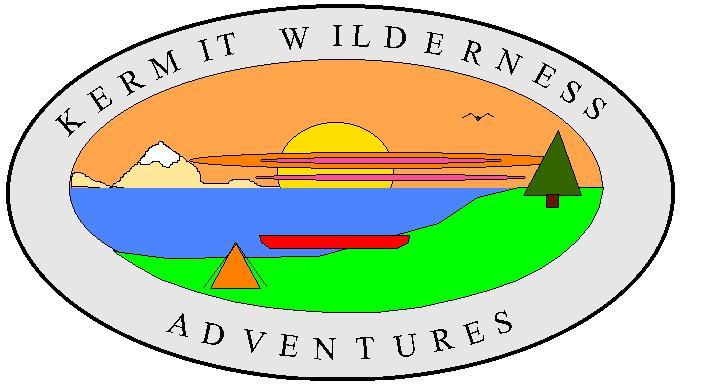 Kermit has been hearing about the Boundary Waters for over 15 years but never had the opportunity to visit there. It is a very long way from our Baltimore, MD home and there are so many good areas to canoe without the long drive. In August of 2005 a good friend and fellow tripper, John, invited us along with some of his other friends to stay on the edge of the Boundary Waters where we made daily fishing trips into BWCAW. Needless to say, we had a wonderful time with plenty of fish to eat. Below you will find a picture story of our trip along with information that you will need if you are planning a trip of your own.

Since we were to be staying in a cabin at  LaTourell's Resort on Moose Lake we were able to fly near to our destination. As the luggage came off the conveyor at the Duluth Airport we saw a number of backpacks and dry bags intermixed with the usual travel bags, golf bags, and infant car seats. We rented a car at the Duluth airport for our drive to Ely where we joined up with the rest of the group. Ely Minnesota is the common launching point for many trippers intering the Park. The town has reknown outfitters, restaraunts, and a well stocked grocery store for supplying your larder.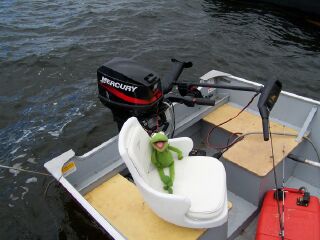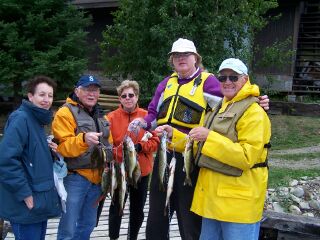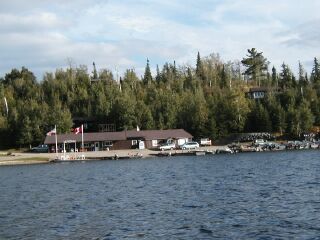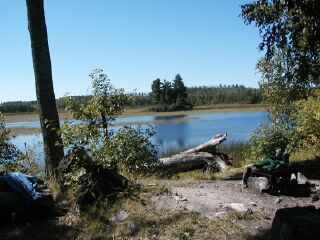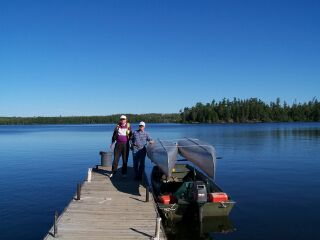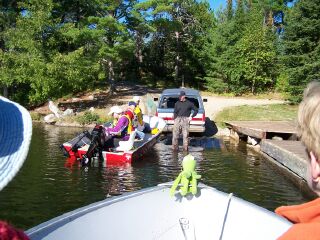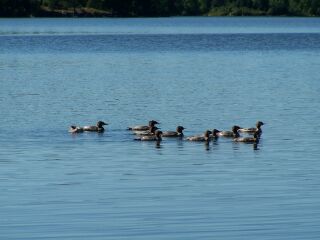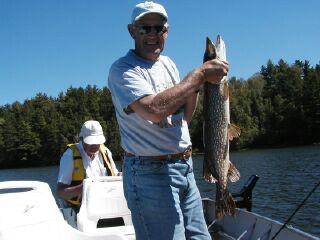 I highly recommend scheduling a stay at LaTourell's at the start and end of a trip into BWCAW. This will give you a place to stay while organizing gear. By advance contact, they will arrange for the permits you will need. Best of all, they can transport you, your canoes and gear into the heart of the wilderness, avoiding two days of paddling across large lakes and past motorboats. On the return you will have a place to freshen up before traveling home. The last evening we enjoyed a nice meal together in Ely.

Contact:

LaTourell's Resort and Outfitters

PO Box 239

Ely, MN 55731

(218) 365-4531                                         Website:  LaTourell's
Kermit ready to take the tiller into the Boundary Waters on day two.

Waterfowl is plentiful in the Boundary Waters

Prairie portage

Between Moose Lake and Basswood is a motorized portage. The attendant backs into the water so you can paddle (or motor) right onto the trailer. Without getting out of the boat you are pulled up and over to the other side. Within 15 minutes you are paddling away without unloading gear or setting foot on the ground. $10/boat

Quetico Trips

Travel into Quetico requires a Remote area border crossing permit. (RABCP) You must apply 4-6 weeks in advance, designate entry point, and make a $100 deposit +$12 registration fee. Quietico camping is $18 cdn per person per night.

MN Fishing License

A seven day non-resident fishing license costs $25. A

14 day couples license  is $36

Everyone, including children must show their

Social Security Number!

We spent our first day fishing on Moose Lake and caught enough fish for our dinner.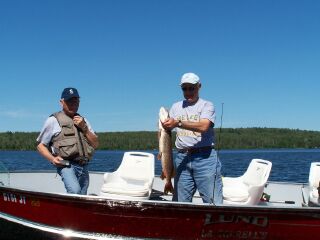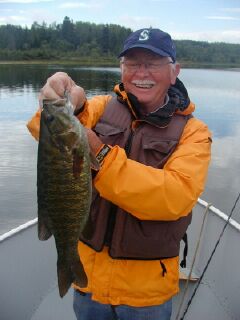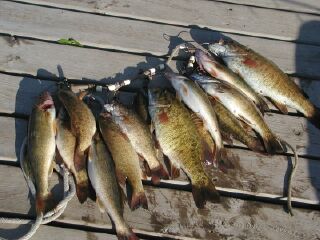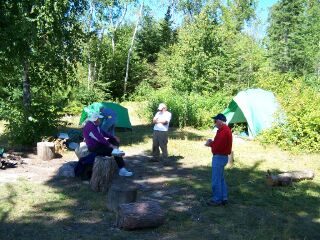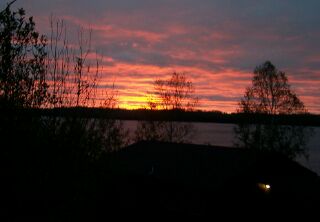 The sun sets on another perfect day.

This 39 inch Pike had to go back and make some babies for you to catch.

LeTourrelle's Resort on Moose Lake

Planning a BWCAW Trip?

If your are considering a trip into the Boundary Waters you must apply early as permits are chosen by lottery and must be filed between November 1, and January 15, each year. Go to the Reservation Center for details.  Be sure to read their Trip Planning Guide.
On the third day us guys went on an overnight camping trip to Back Bay.  We loaded our gear and canoes on the transporter and found a nice island campsite.  We caught fish for dinner.  We awoke to a fine morning and left in the canoes for Basswood Falls.  The women were content to stay in the cabins at LaTourell's. Oh no! They have the cars and credit cards.

Fun to catch and good to eat

Manford with a nice Smallmouth

Elliott with Northern Pike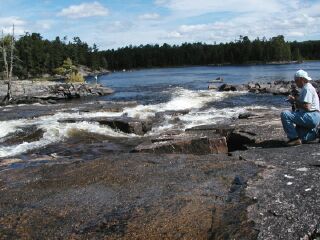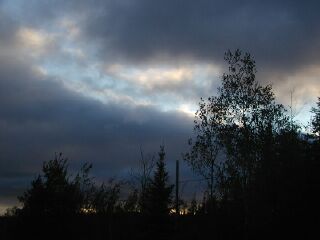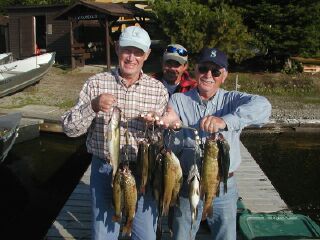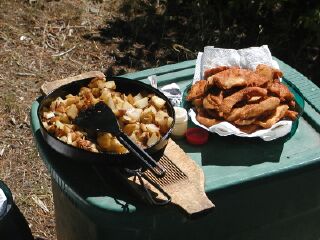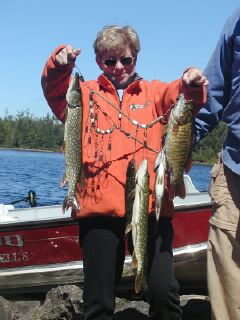 Elliott and Manford with a days catch

Our guide Paul is in the back

The clouds begin to break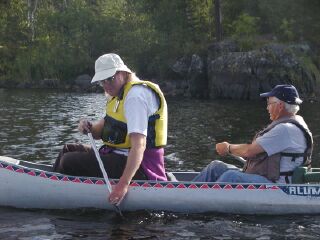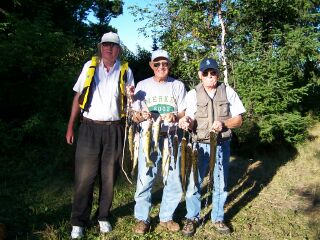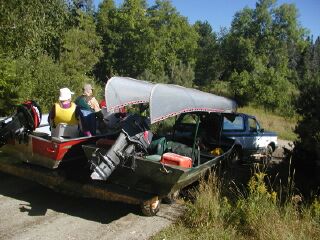 Motor Portage saves much time when entering the BWCAW

Paddling to Basswood Falls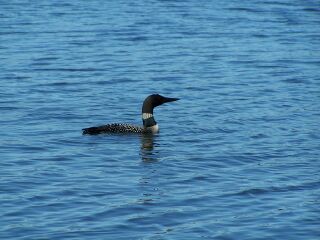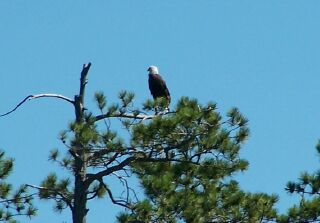 The 10X optical zoom with some digital help. Taken from a moving boat!

My best Loon shot with a Kodak DX6490 using the 10X optical zoom.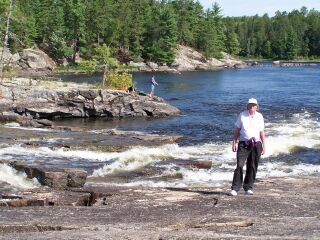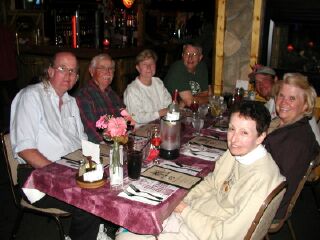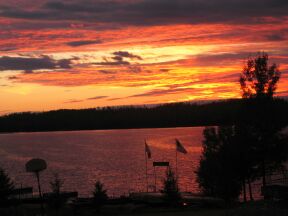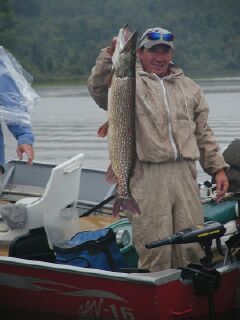 Congratulations Paul for the record catch on our trip.

Sun setting over Moose Lake

Dinner together in Ely as the trip comes to a fitting end. After all that fish, I'll have a steak.

John visits Basswood again after 40 years. That young lady in the background was pulling in Smallmouth Bass.