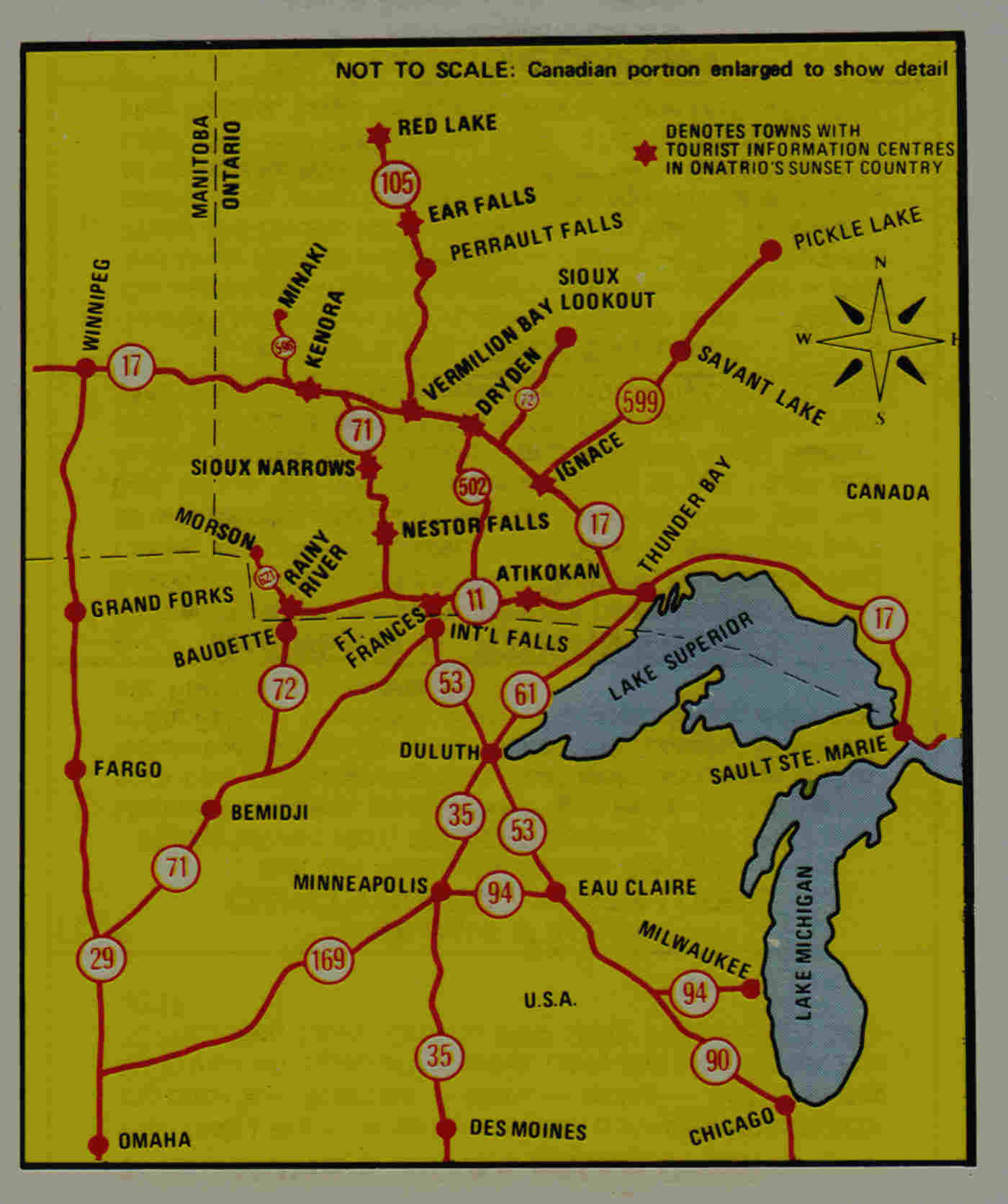 Red Lake is a 20 hour drive north from Chicago, just about as far as the road goes. Gasoline gets pretty scarce in these remote regions.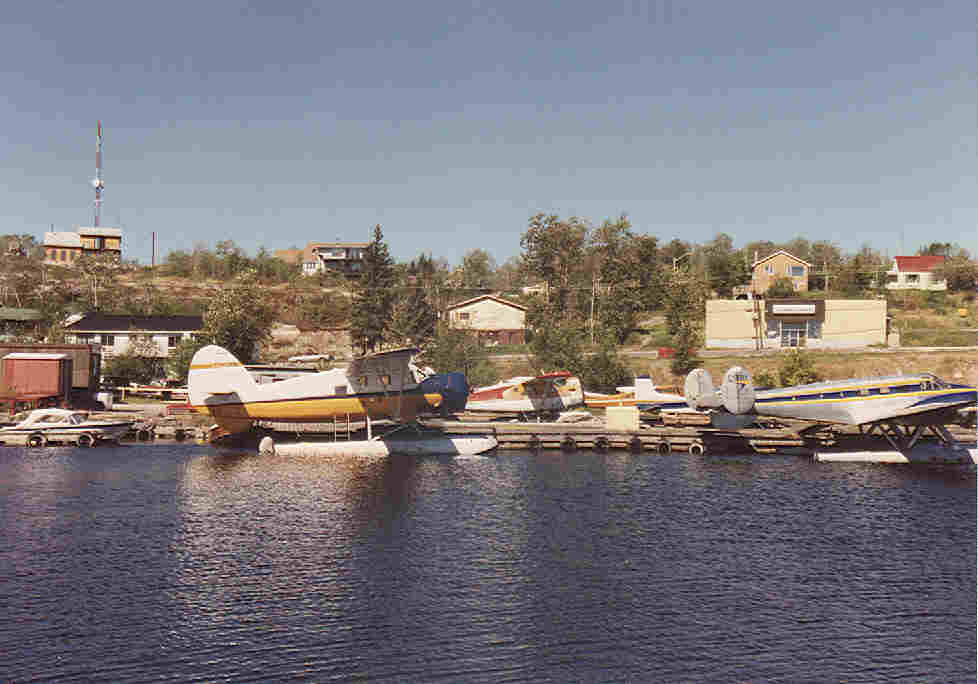 This is the town of Red Lake. Obviously fly-in fishing to the many lakes of the area is their trade.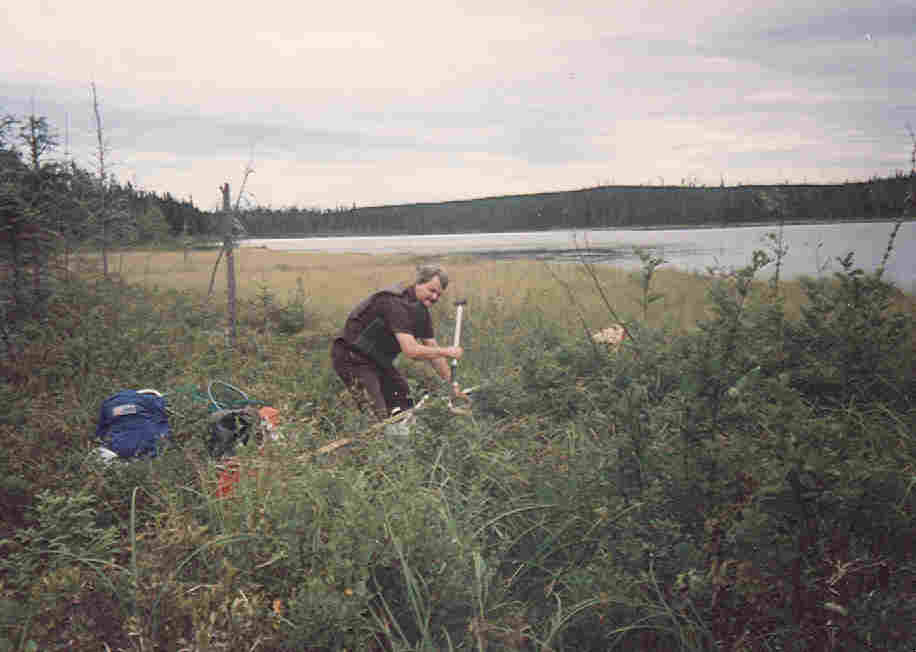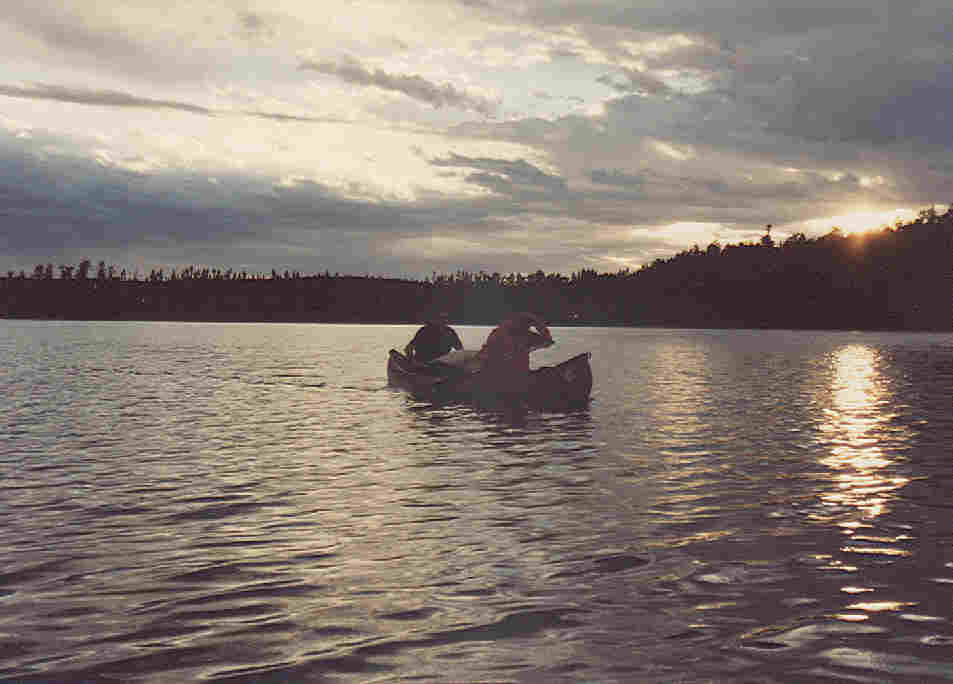 Loading up at Black Bear Lake. That is the canoe being launched into the mouth of a tiny creek. The ground is very swampy here.

Lamar and Fred are the first to see Trout Lake. We made it before dark, grateful that the sky was clearing. We would be in dire straits if a campsite could not be found soon.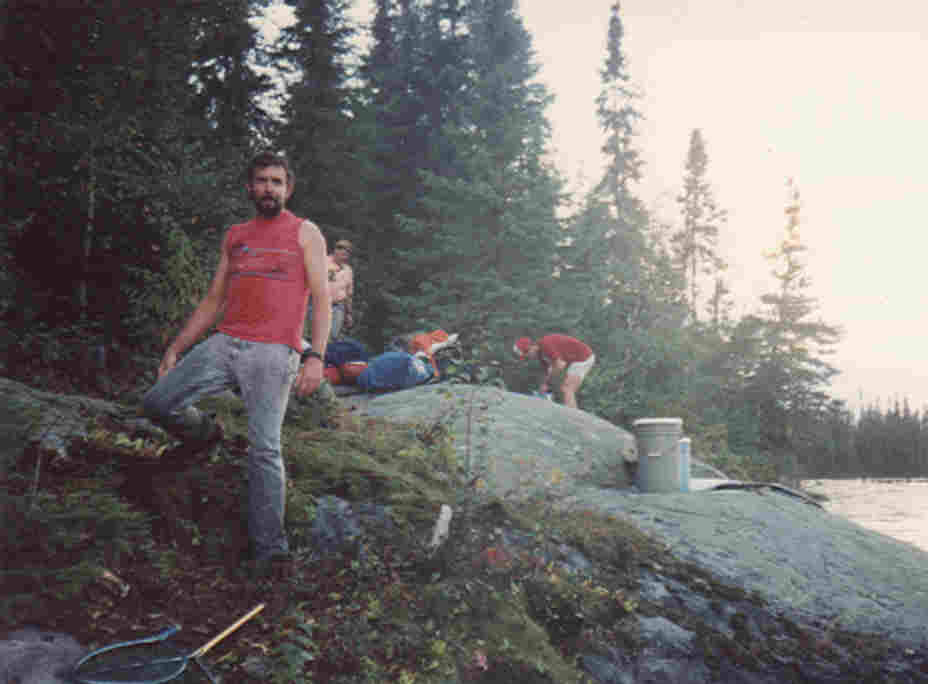 No, that is Ed, not a bear. Again we were grateful to find camp before dark. Suitable camping spots were often marked by exposed rock like this one.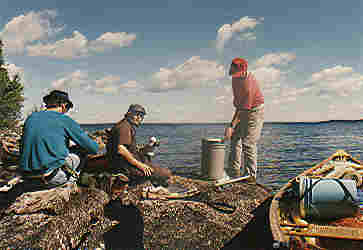 Catching lunch in the lee of an unnamed island on Trout Lake. This is one BIG lake.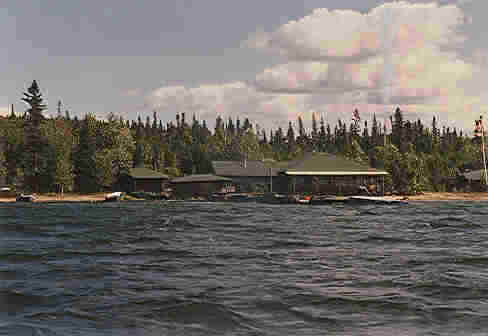 This was our first view of
Cat Island Lodge
, a premier fly-in fishing camp, it has no overland access and generates its own electrical power.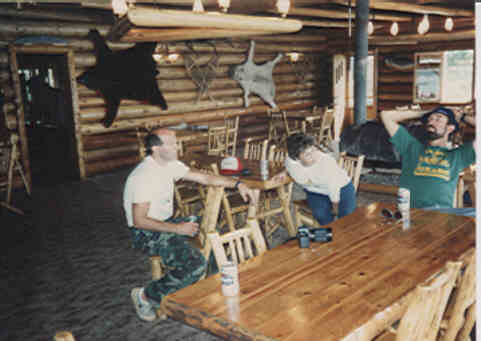 Relaxing in the main lodge during our visit. The original cabin now serves as the kitchen.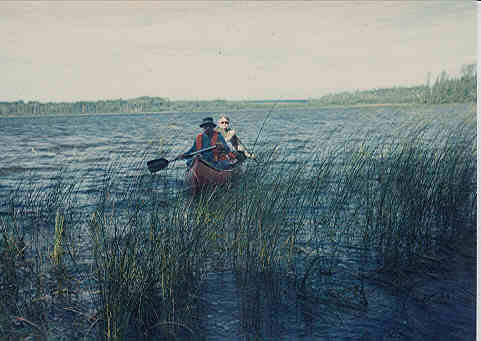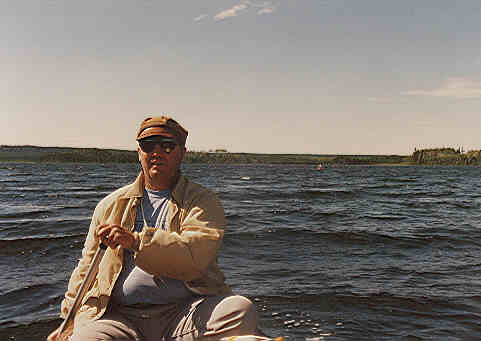 Arriving at the portage from Trout Lake. Even the bay was roughed up by the wind

Little Trout Lake was much rougher than it looks here. Don't tlet that relaxed look on Lamar's face fool you.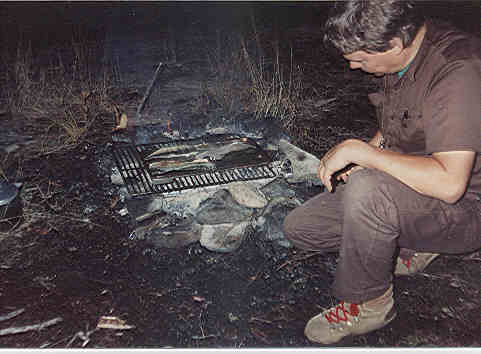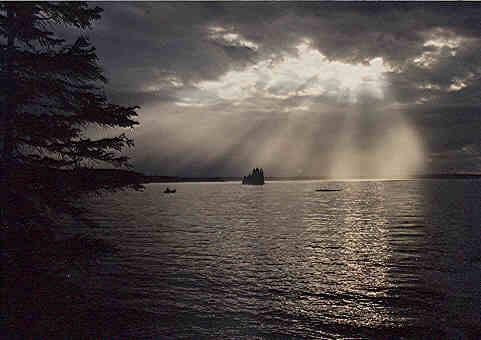 Cooking Northern Pike and Walleyed Pike on the griddle.

The light after the storm. This one missed us but the beauty we beheld.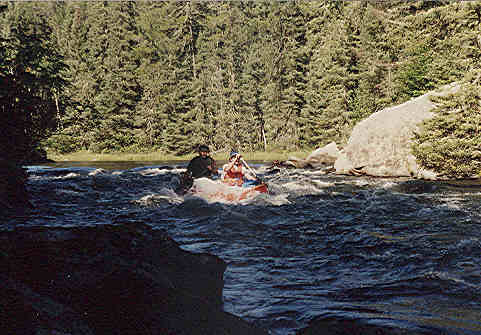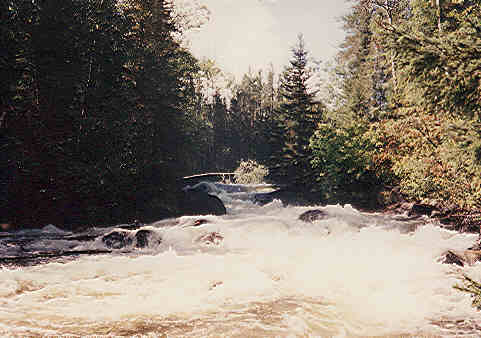 We could paddle the first rapids and it was a thrill.

You can't paddle them all.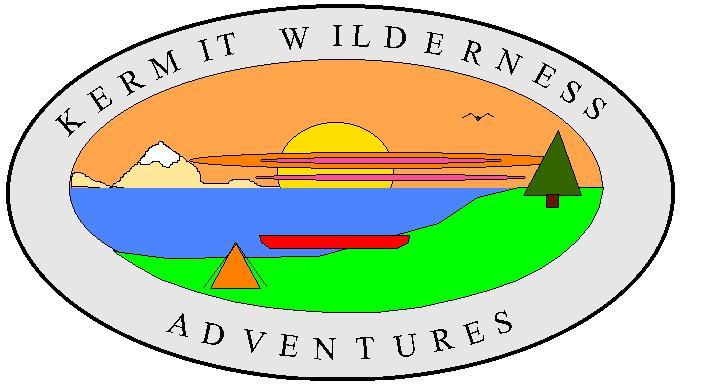 Red Lake

and the Trout Lake River

1990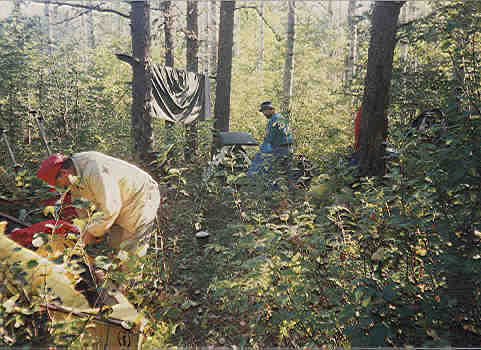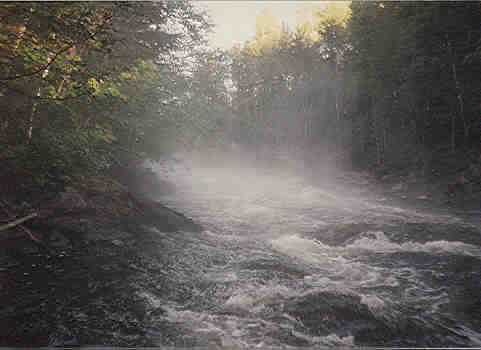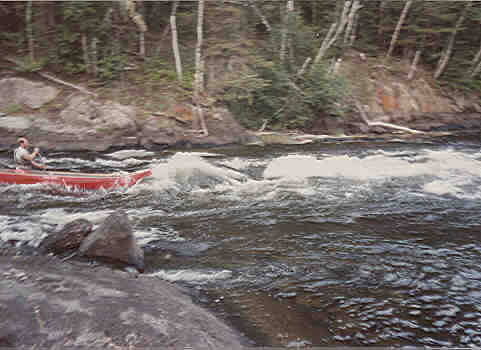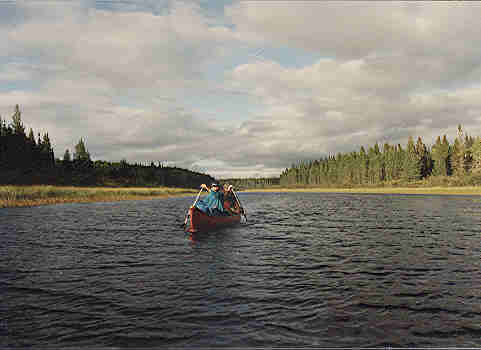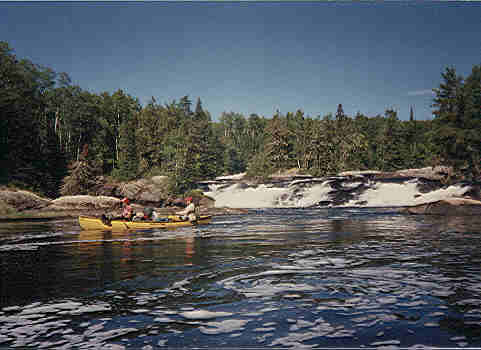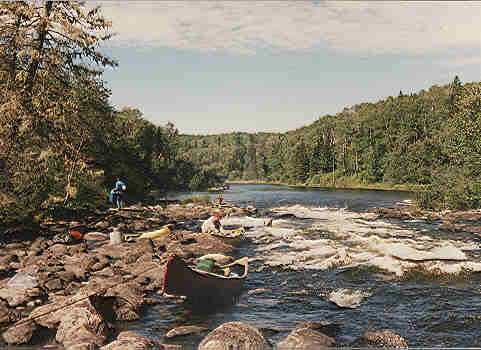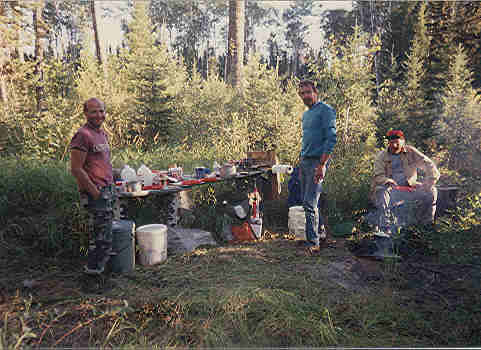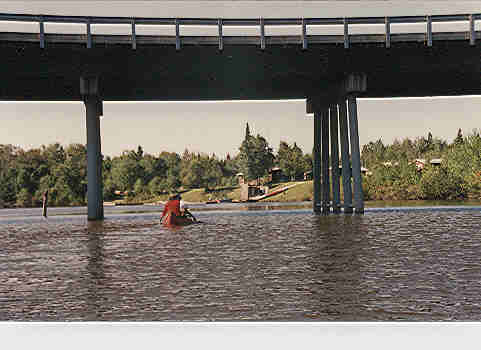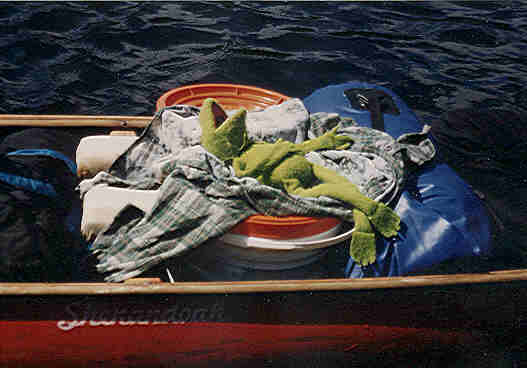 Seven days paddling in the wilderness makes for one very tired frog!

Paddling down Trout Lake River. This is really moose country but they weren't showing themselves to us this trip.

Bushwacking camp at the top of Big Falls.

Fred took the honors of paddling the empty canoes through the haystacks in  what I dubbed Kenney's Chute.

The early morning mist rises from the rapids at the top of Big Falls.

Lining the canoes through Whitefish Rapids. These were the last we would see on the trip.

Looking back at Big Falls.

Our last camp was well equipped by the previous years moose hunters.

The end is in site as we pass under the bridge.