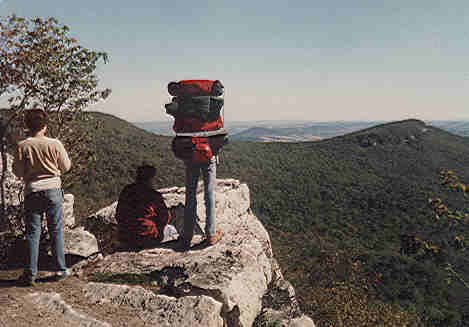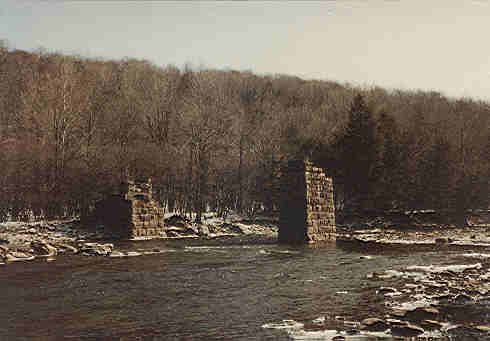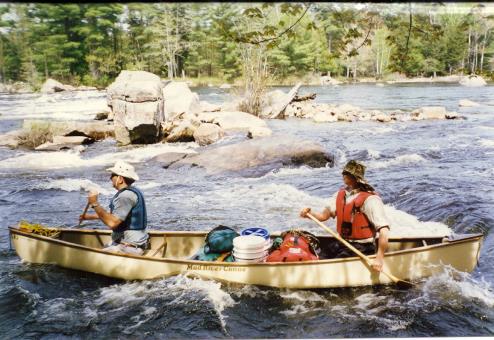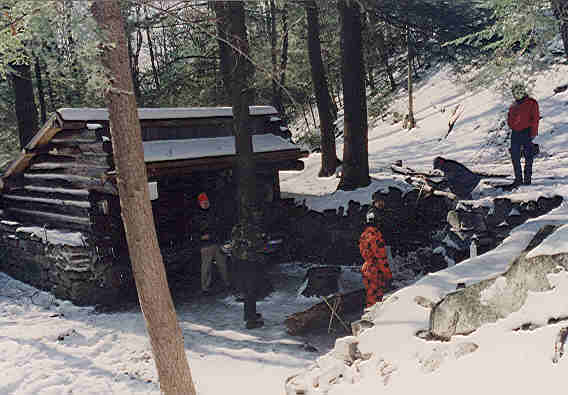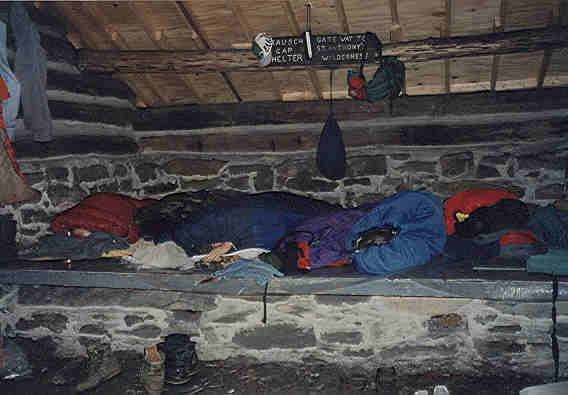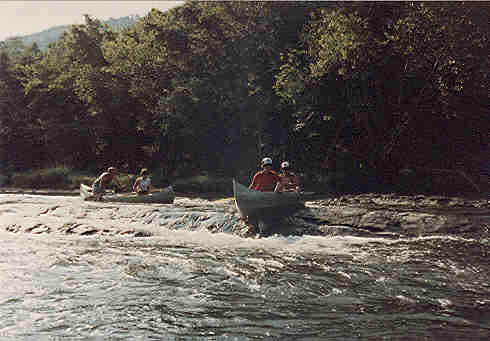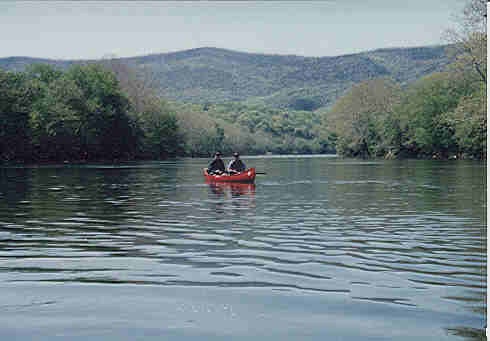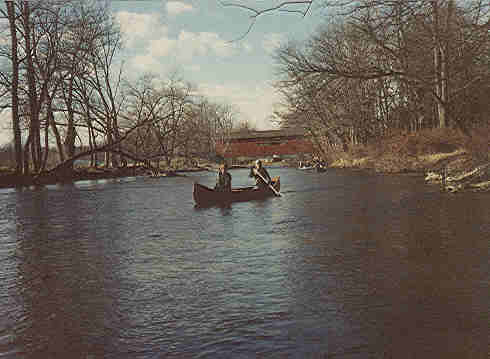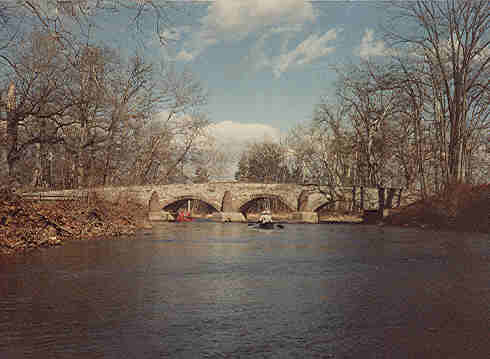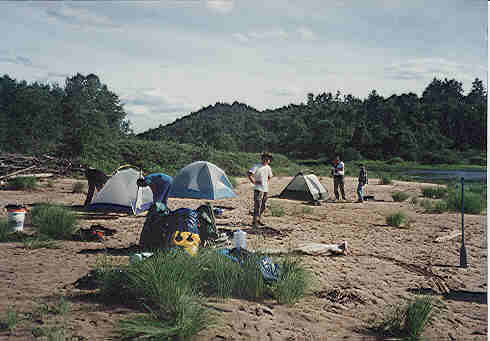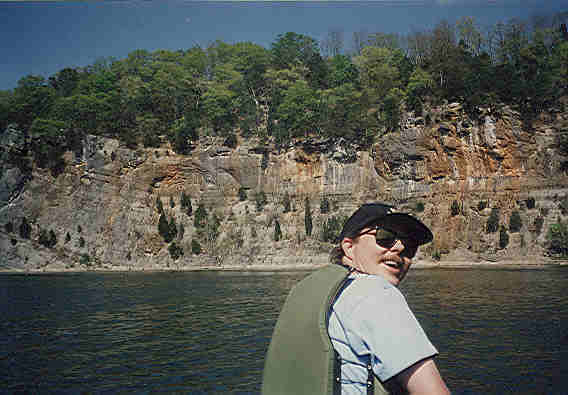 This is another picture on the Shenandoah River, or so I say. Others think it was taken in Canada.

I love photo games. Look at the deciduous trees at the top of the photo. They look rather bare indicating an early spring or fall trip. That wouldn't be Canada. Also notice the short sleeve shirt indicating a warm day. The trees could also be Oaks denudded by Gypsy Moths. Odds are pretty good this isn't Canada.

This was checked against other photos on 1/11/02 and confirmed to be the Shenanoah River at Compton Rapids.

Camping on the river bottom along the Spanish River. The Spanish is a premier white water river suitable for wilderness tripping. It can be found north of Sudbury, Ontario. Click here for a full report on the Spanish River.
This is the Yellow Beaches located in south central Pennsylvania. The covered bridge is at Messiah College. Although this wasn't the usual winter trip, the barren trees indicate it was off-season.

Some rivers deserve another view. This is also the Yellow Breaches. This stream runs well year round and is a favorite of the Lancaster Canoe Club, especially just after a snowfall.

This is the Shenandoah River in near Front Royal, Virginia.

I haven't paddled this South Branch of the Potomac for many years but always found it enjoyable. This is upstream from Romney, West Virginia.

These two pictures are of Rausch Gap Shelter on the Appalachian Trail. We made this overnight trip on the 28th of February when the temperature dropped to  5 degrees F. The young men spent most of the day chopping down a large oak tree. I think we burned most of it.

This is the Raquette River in the Adarondacks of New York.

Unfortunately this winter trip on the Loyalsock River in north central Pennsylvania wasn't one of the more pleasant excursions. The water was low and boney making control difficult. The wind was blowing snow flurries into our faces making it hard to see. My knees turned blue, but we conquered the elements.

This view is from Pulpit Rock on the Appalachian Trail in Pensylvania.

This page was last updated on: April 20, 2016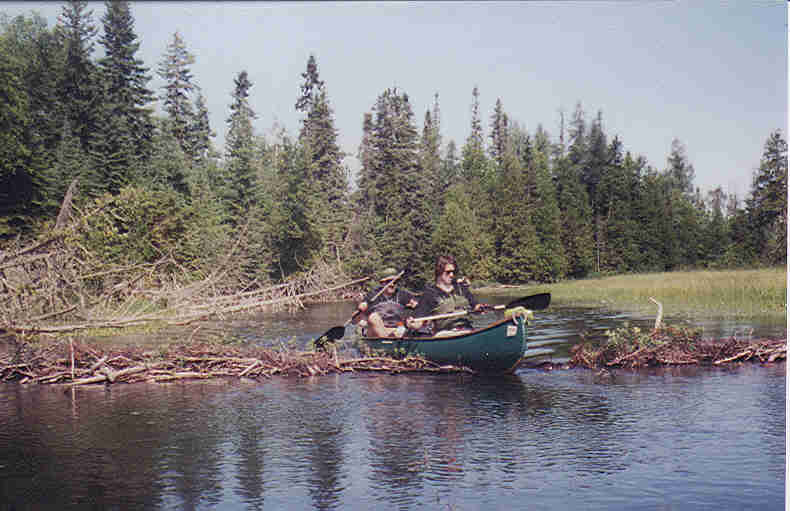 Jumping a beaver dam on the Mississaugi River Ontario, Canada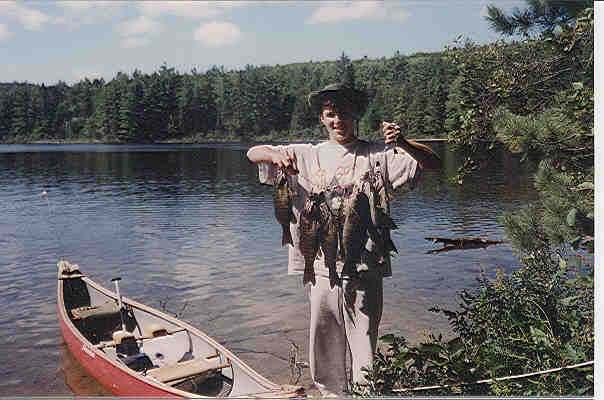 Stringer of Smallmouth Bass. Our limit caught on Menona Lake in Algonquin Park. Click here for the Menona Lake trip report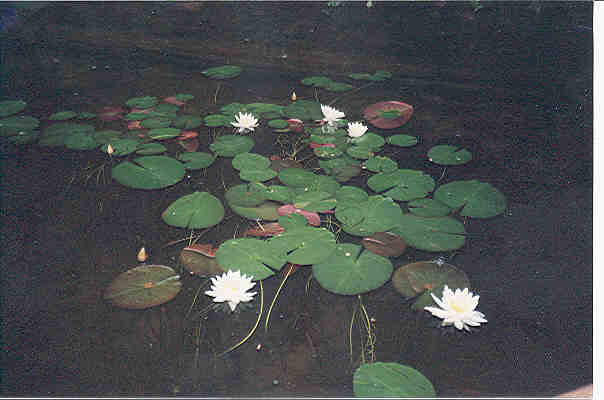 Tom Thompson Lake, Algonquin Park. Taken at our campsite while others were loading the canoes.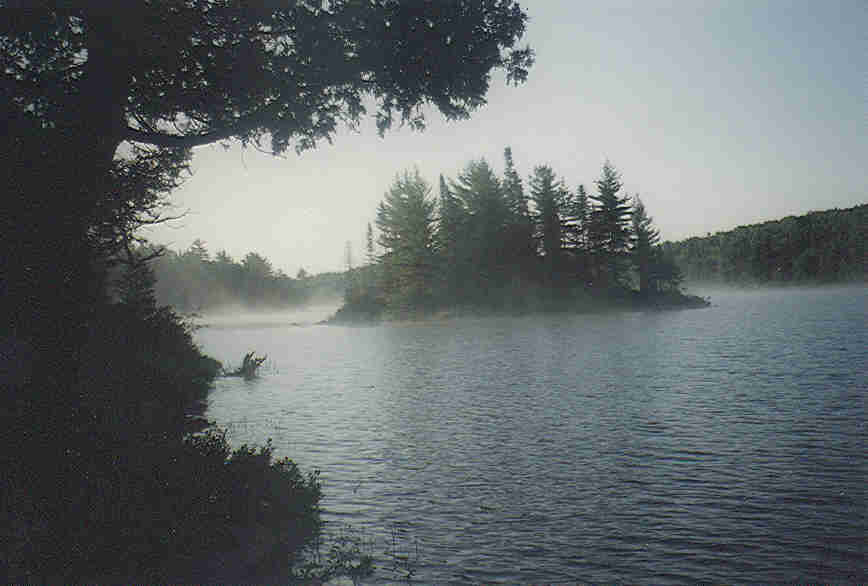 Algonquin Park,  Little Doe or Sunbeam Lake.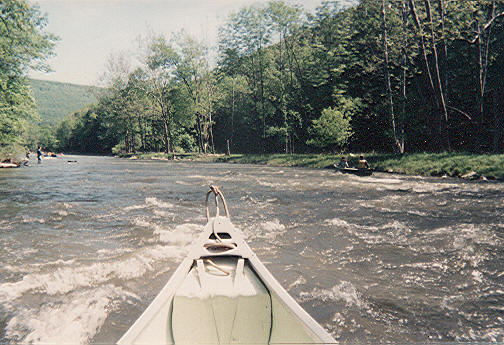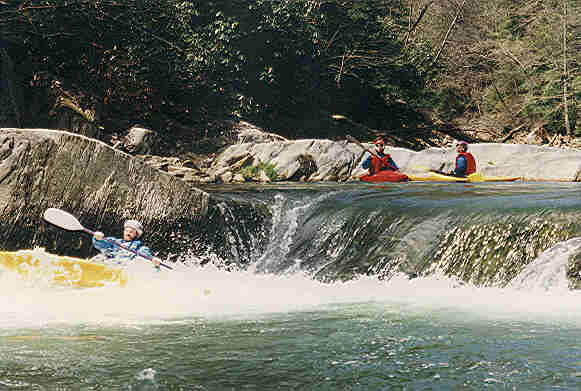 Penn's Creek Pennsylvania is a really great whitewater day trip between and Coburn and Glen Iron. It is also known for Trout fishing.

This is Snap Falls on Muddy Creek south of Red Lion, PA. It is an excellent day trip of about 6 miles with plenty of Class 2 and some Class 3 rapids depending on water level. It is very technical. Beware of a dangerous Class 5-6. The take out for this trip is from the Susquenhanna River.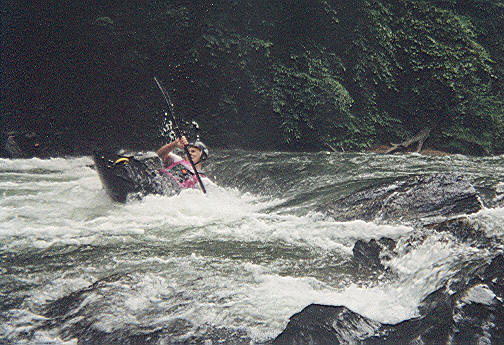 Attempting an "ender" on Muddy Creek. The water isn't so muddy on this trip.

Questions, comments or suggestions for Kermit.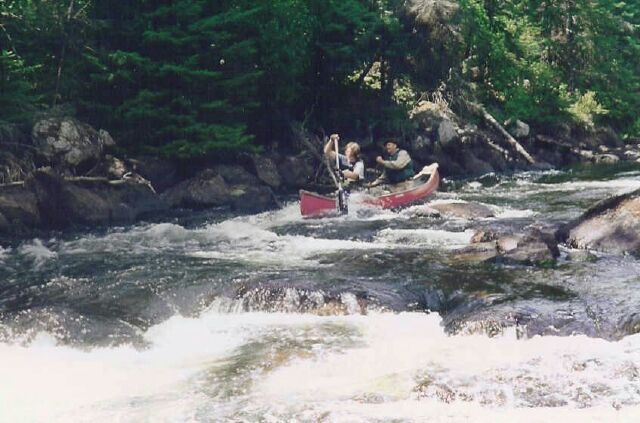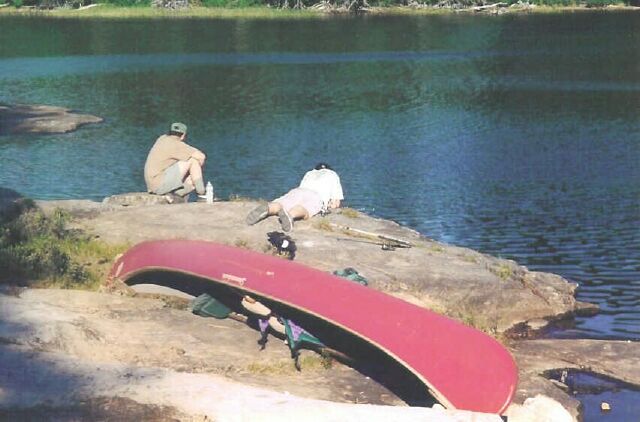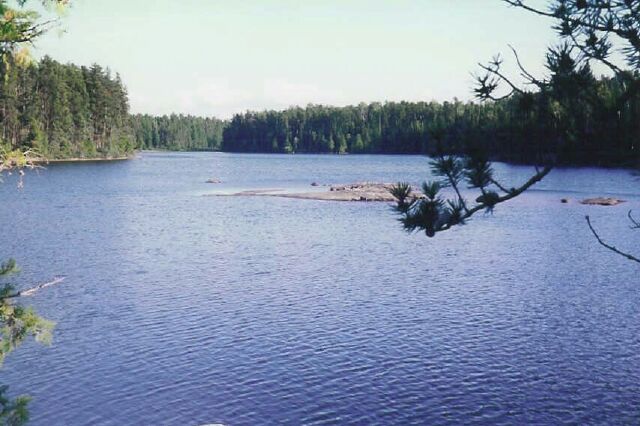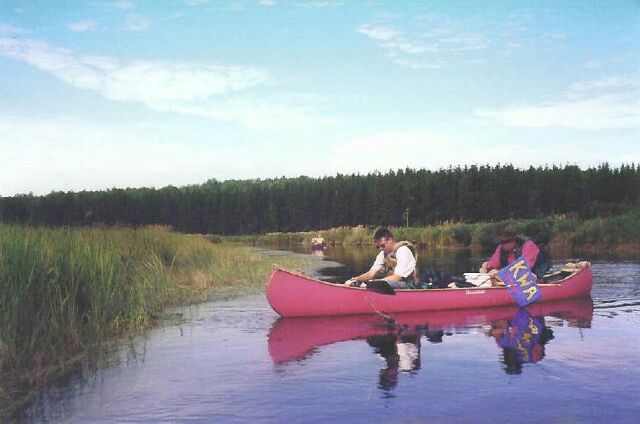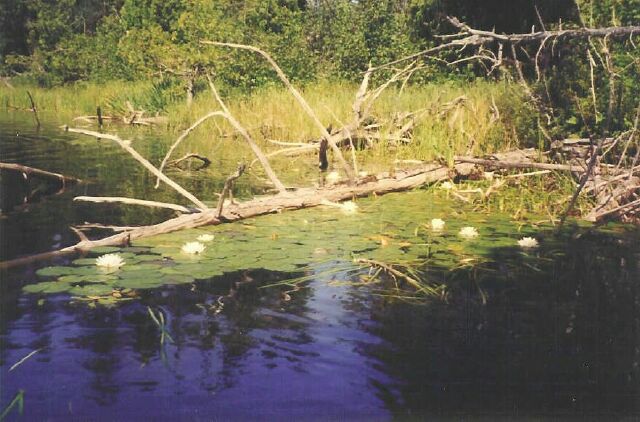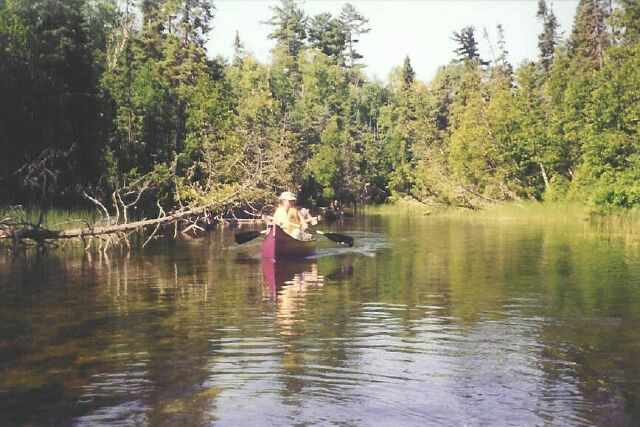 If I didn't know better I would think this was Muddy Creek, but it is taken on the Misissaugi River in 2000. There was not a lot of white water paddling but this one was fun.

I continue with a series of Misissaugi River photos. Unfortunately I don't remember enough details to put together a good trip description. This shows a beautiful day for relaxing in the wilderness. Apparently the fish weren't biting.

The Misissaugi River has large areas of flatwater like shown here.

Indications were that this large flat area is covered with water in the spring. The river wound back and forth through here. We saw wolf tracks at one of our stops.

I finally got a scanner that does justice to this snapshot. The digital camera would have done much better but I didn't have one in 2000.

Large portions of the Misissaugi turn alternately north and south as this river makes its way westward to Aubrey Falls.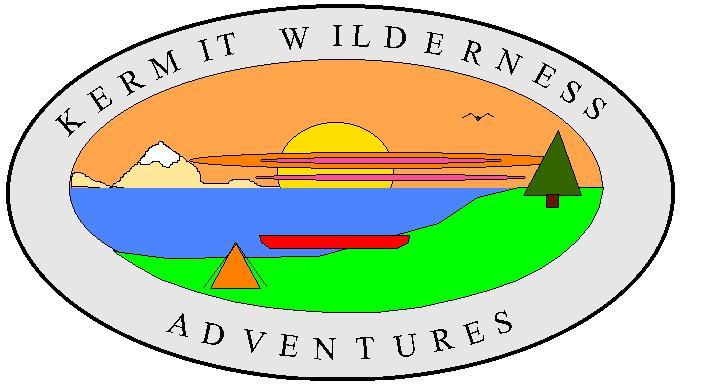 Romans 1:20

For ever since the world was created, people have seen the earth and sky. Through everything God made, they can clearly see his invisible qualities-his eternal power and divine nature. So they have no excuse for not knowing God.

(Tyndale NLT)

Winter on Rivers and Trails

This is a great time to get outdoors. The scenery is beautiful and there are no bugs and not much sweat.

This fabulous picture was taken taken by Mark Rubino looking at Fork Lake as four wolves followed the snowshoe trail the group made a day earlier.
Click on the photo for a digital zoom
confirming these were indeed wolves, a very rare site made possible by the white snow and Mark's good fortune. More of Mark's site can be seen on his site
Mark in the Park.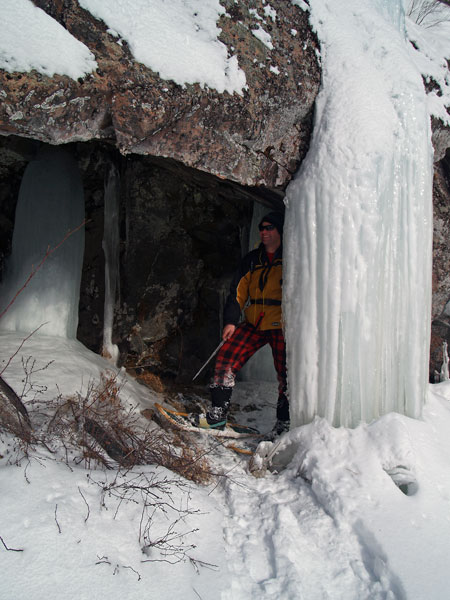 It was frosty Friday Night, the temperature was close to -30°C overnight. Sat. morning, we had a temperature of -24.6°C @ 8am. The weather on Friday and Sat. was cold, and overcast for the most part. Breaking trail was very tough. Snow depths on the lake surface were 2 feet, in the bush 2.5 to 3 feet deep, and in some cases over 1 metre in depth. (Mark Rubino 2009)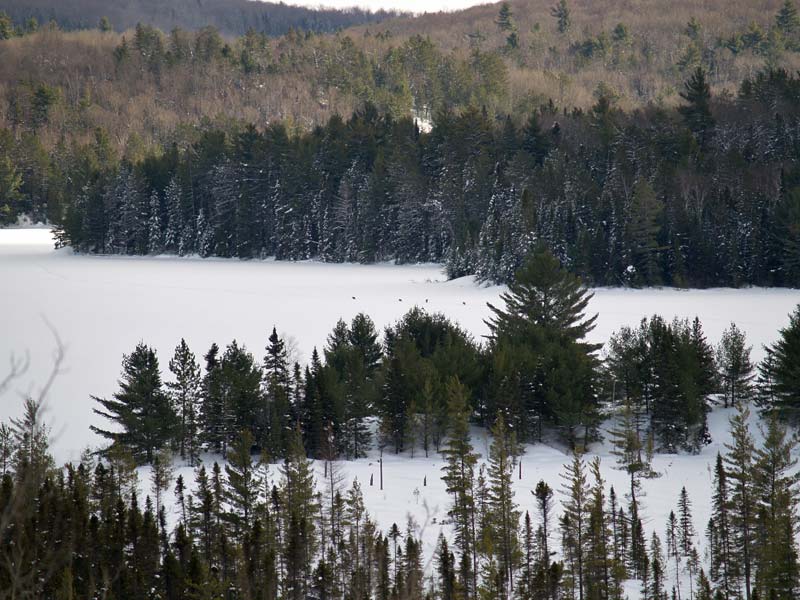 Behind the ice fall along Fork Lake in Algonquin Park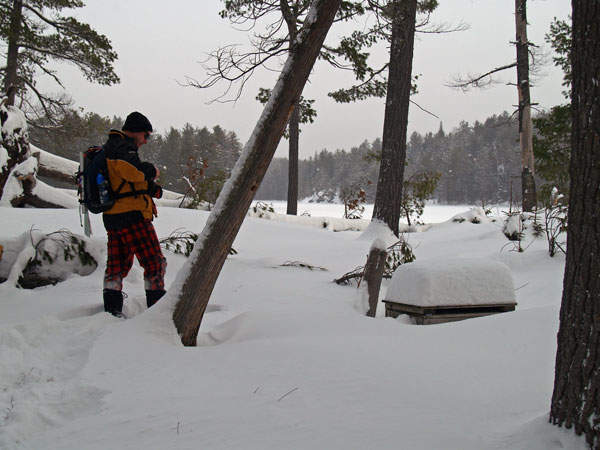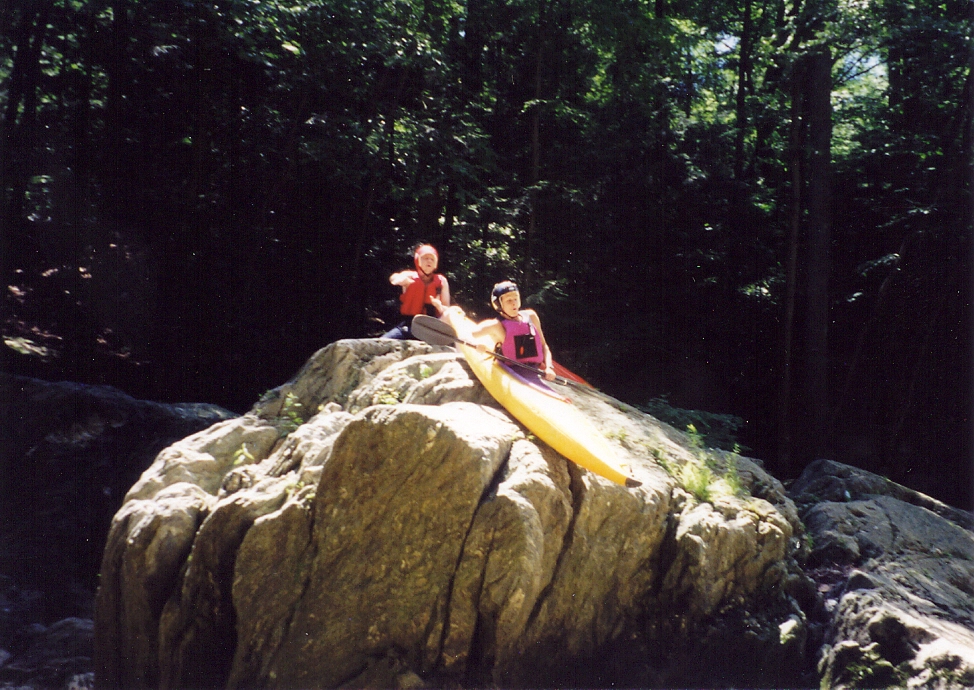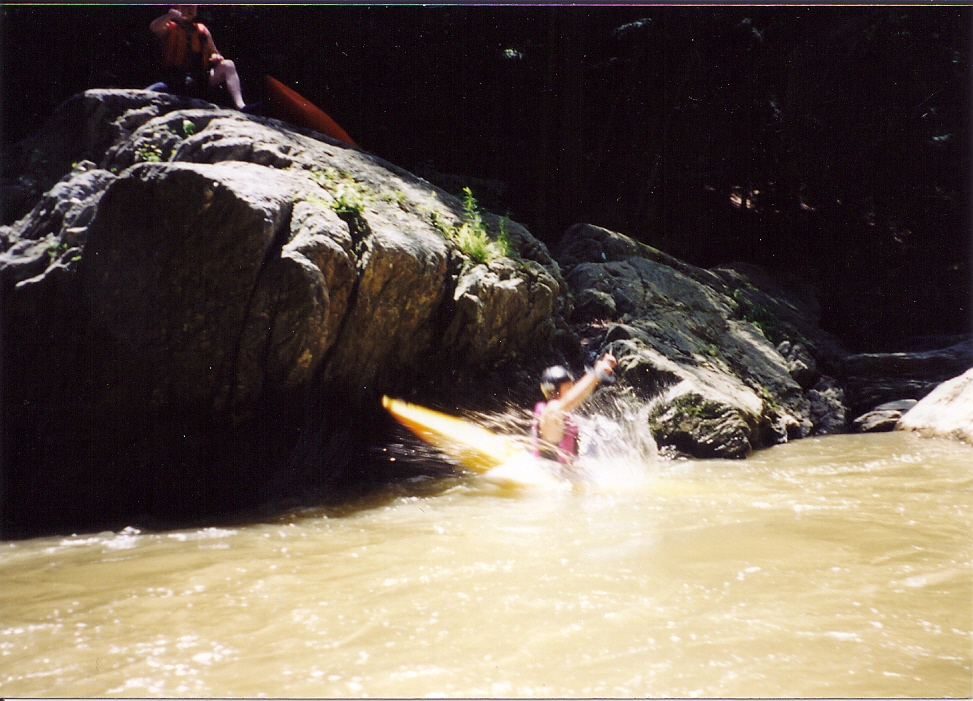 The above pictures are a photo sequence of launching into Muddy Creek from a rock 20 fet above the water.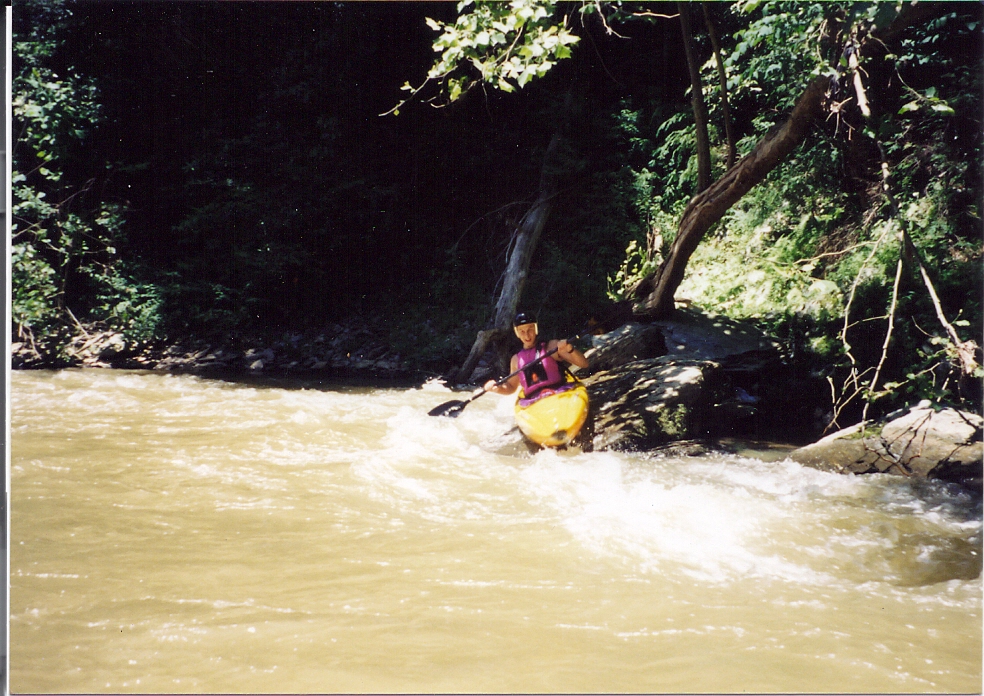 Is a rare opportunity to be able to find a spot where you can use the water to wash the Kayak up onto a flat rock and then slide back into the water.

Potpourri of River and Trails